Exhibition entitled Michał Spisak and friends at the "Warsaw Autumn" festivals
9 September- 28 October 2022.
"Za szybą" Gallery – Main Hall of the Zagłębie Palace of Culture
The exhibition is organised in cooperation with the Polish Composers' Union, which has collected numerous mementoes in its archives. They are in the form of posters, photographs, publications, and prints documenting Michał Spisak's presence at the 'Warsaw Autumn' festivals. The aim of the exhibition is to show the fate of the outstanding composer from Dąbrowa Górnicza in the background of other prominent personalities from the world of music – including Grażyna Bacewicz, Henryk Mikołaj Górecki, Wojciech Kilar and others. In a biography of Michał Spisak, written down by a musicologist from Katowice and his friend, Professor Leon Markiewicz, we can read that every year, at the Warsaw Festival, there were meetings of the "clique from Katowice", as Spisak called it, which was one of the few occasions to meet in such a respectable group. The exhibition will tell the story of these events and the relations which Spisak and his friends had. The exhibition has a curatorial introduction and is accompanied by a catalogue containing an introduction and presentation of selected exhibits.
The Polish Composers' Union brings together composers and musicologists. The statutory objective of the Polish Composers' Union is to promote musical culture. The Union pursues it by organising concerts, festivals, conferences, courses, exhibitions, and competitions, as well as through publishing activities. It runs a library (the Library-Phonotheque of the Polish Composers' Union – Documentation Centre of Polish Contemporary Music – Archives of the "Warsaw Autumn" Festival, currently operating under the name of the Polish Music Information Centre), where it collects and makes available music collections and information on music culture, especially contemporary Polish music. The Polish Composers' Union sets itself the task of speaking out on important cultural and other public issues and providing its members with facilities to assist in creative and scientific work. It also takes action to protect the copyright and professional rights of the community of composers and musicologists. In addition, it strives to participate in worldwide culture by establishing foreign contacts, exchanging information, and participating in the activities of other international organisations. "Warsaw Autumn" – the International Festival of Contemporary Music, initiated in 1956 by Tadeusz Baird and Kazimierz Serocki is one of the most important projects undertaken by the General Board of the Polish Composers' Union.
EXHIBITION PARTNER: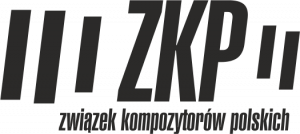 ---